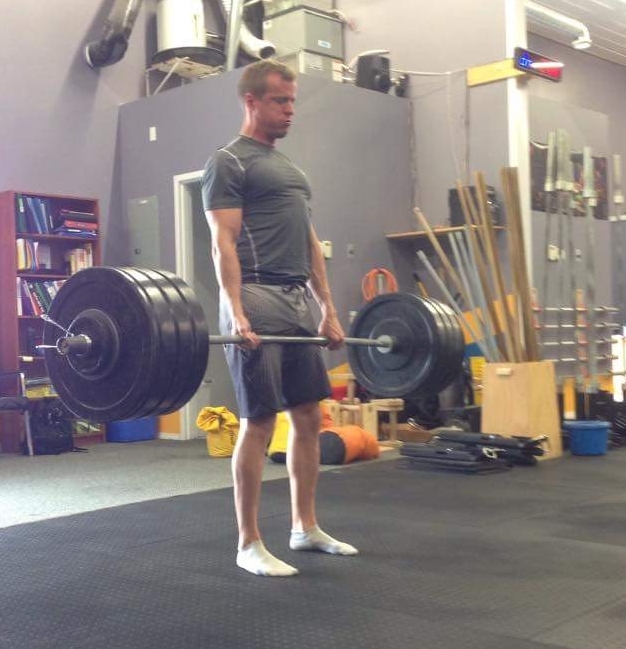 Tell us about yourself
I'm the owner of CrossFit Steinbach. I'm married to Hillary, without whom CF Steinbach would likely not exist. We are originally from southern Ontario, and are Manitoba transplants because of Hillary's job. As a kid, I was pretty active, but didn't play many sports other than some baseball and soccer in elementary school. It wasn't until I was in university that I started exploring more athletic pursuits, starting with badminton, then cycling, running, and later rock climbing and karate.
How were you introduced to CrossFit?
I don't recall precisely, but it was certainly through some internet searching. The first workout I tried in my basement was Cindy, and I couldn't move my arms for a few days after that.
What is your favorite WOD/Lift?
Favourite WOD – I tend to prefer longer workouts, but anything with squats and bodyweight movements. Favourite lift – Probably squats, and cleans second.
What is your favorite skill/movement that you have learned at CrossFit?
It's not a movement, but maybe a skill – how to run a CrossFit gym… it's been a learning process, that's for sure. Movements? I love to move, and I'm always working on something.
What is your "goat"?
That's an easy one — anything overhead, with the possible exception of overhead squats.
One word to describe me would be…
I'm not sure one can summarize a person with one word, but let's go with curious. I like to learn new things.
I have always wanted…
…To have a job that I'm passionate about, and I've found that.
Outside of the gym, I like to…
… Be outside, build things out of wood, take photos, ride my bike, read and learn, and spend time with Hillary (not in order of importance!).
Three things you would always find in my fridge…
Eggs, veggies, apples.
Something nobody knows about me or would be surprised to know about me…
Up until about ten years old, I thought I wanted to be a pianist when I grew up.
Favorite physical activity outside of CrossFit…
Cycling. I fell in love with it one summer when that was the only way I could get to my job, and I've logged many thousands of kilometres on various bikes since then.
Favorite place to eat out…
Probably Nuburger (formerly Unburger) in Winnipeg.
What is your day job?
The gym is my day job. In a former life I was an environmental analytical chemist.
Song that gets me pumped up for a workout…
Rage Against the Machine does a good job.
The last thing I ate was…
If you must know, a handful of nuts and raisins.
My proudest accomplishment is…
Helping create CrossFit Steinbach. It started as an idea Jay and I dreamed up, and the first iteration was in my basement with Melissa R. and Doug S. as the first official members.
My six month goal is…
I'm working through a gymnastics strength program right now, and I want to see where that takes me. I'd love to say a straddle front lever, but we shall see how it goes. Secondary to that, I'd say a bodyweight jerk. (See "goat" above.)
If I could have ANYBODY (living or dead) over for dinner, it would be…
Probably Richard Feynman – a staggering intellect, an intolerance for BS, and a fantastic teacher.
My favorite workout attire is…
Board shorts and a t-shirt.
My favorite workout partner(s)…
Anyone who works hard. Fulfill that criteria, and I'm happy.
Ready to become stronger & fitter?