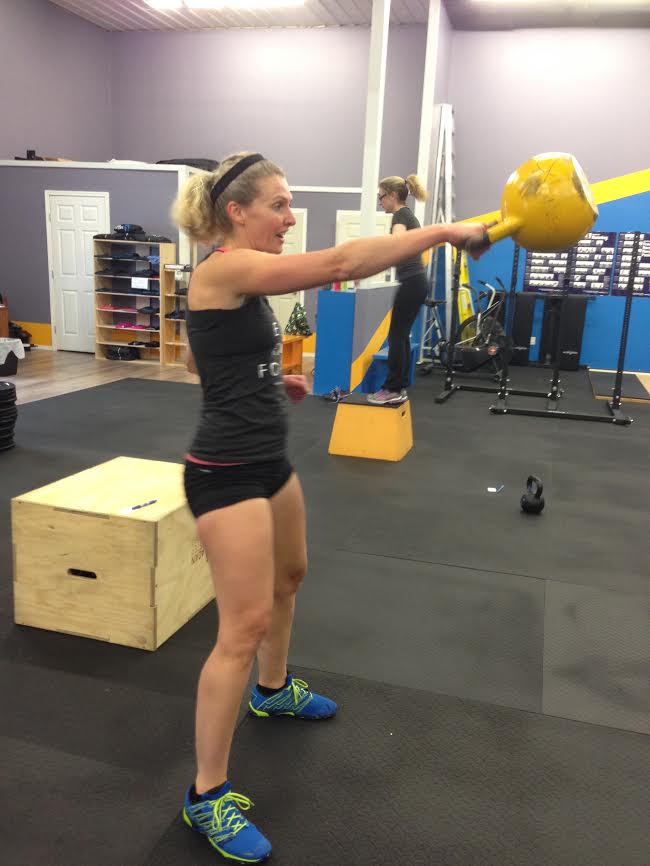 Tell us about yourself
I am a wife, and mother of 3. Love spending time with my fam, …I like food a lot, especially sweets! (I know!?!? working on it) I love Jesus, and I love CF
How were you introduced to CrossFit?
I saw pictures on FB of a friend of mine doing CF. I was intrigued and also curious as to the possibility of me being able of doing some of it.
What is your favorite WOD/Lift?
Favorite lift would be Power Clean, or Deadlift. WOD? Maybe Annie?
What is your favorite skill/movement that you have learned at CrossFit?
Definitely a strict pull up, at this point. Thrilled I can do it!!
What is your "goat"?
I'm guessing this means what I don't like…split jerk…it's just a jerk! Hahaha!
One word to describe me would be…
Stubborn, maybe…? Not sure…maybe hard worker?
I have always wanted…
To be skinny…now I want to be strong and the best version of me…mentally, emotionally and physically!
Outside of the gym, I like to…
Spend time with my husband and kiddos. Love doing coffee with friends too
Three things you would always find in my fridge…
Milk, fruit, and veggies.
Something nobody knows about me or would be surprised to know about me…
My first year out of high school worked at a chicken killing/packaging factory.
Favorite physical activity outside of CrossFit…
Leisure bike ride with the fam.
Favorite place to eat out…
Clay Oven
What is your day job?
I'm a stay at home mom…with no kids at home. So I'm not really home a lot…giggle!
Song that gets me pumped up for a workout…
Dance music
The last thing I ate was…
Pizza, and carrots from my garden…so delish! And my progenex cocktail
My proudest accomplishment is…
My marriage of 19 years, and my beautiful kiddos!
My proudest CF accomplishment would be a strict pull up with a 2.5 # weight tucked in my shorts! Hehe (see pic)
My six month goal is…
To string together 2 kipping pull-ups.
If I could have ANYBODY (living or dead) over for dinner, it would be…
No idea ? I know I'm no fun!! Bahahaha!
My favorite workout attire is…
Definitely a tank top, and shorts.
My favorite workout partner(s)…
Honestly the list is too long to mention everyone…I love working out with all the ladies at CFS. They are all so very encouraging and motivating!! The atmosphere there is awesome!!
Ready to become stronger & fitter?