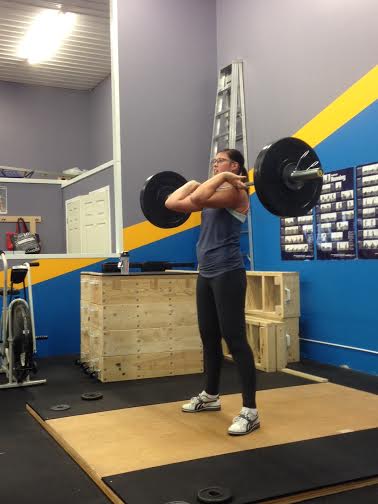 Tell us about yourself
I'm Leanne I am 25 and in my 3rd year of teaching. I graduated from high school in 2008, received my Bachelor's of Arts Degree in English and Computer Science in 2011 and graduated with a Bachelor's of Education in 2013. I received my first teaching job at the age of 23. I am a bit of a go-getter. I thrive on structure, schedules, and goals. I started at CrossFit Steinbach in January 2015 and fell in love with the format of it right from the very beginning, largely because it has structure, a schedule, and goals.
How were you introduced to CrossFit?
I kind of introduced myself to CrossFit. It was just after Christmas and I was sitting at home and had a little bit of the post-Christmas rush/winter blues. I knew I needed to do something that would allow me to be around people, since I live alone, but I also wanted something that would benefit me as a person. I did some research of groups and gyms around Steinbach. I stumbled upon the CrossFit Steinbach website and saw that they were starting an On Ramp class 3 days later. So I emailed Colin, asked him some questions, and signed myself up!
What is your favorite WOD/Lift?
I love Deadlifts and Power Cleans. I haven't been around for long enough to do all the named WOD's, but of the ones that I have done, I would say Annie and Christine have been somewhat enjoyable (though painful!)
What is your favorite skill/movement that you have learned at CrossFit?
I have loved learning some of the gymnastics movements. I have never viewed myself as someone that is gymnastic material (being 6 feet tall with a solid build might do that to you…), but I love having the opportunity to dabble in the world of gymnastics at CrossFit!
What is your "goat"?
A Snatch! It's so hard and my mobility is not all that great yet!
One word to describe me would be…
Smiley! I almost always have a smile on my face.
I have always wanted…
To be the shortest person in a room. Haha!
Outside of the gym, I like to…
Spend time with my family and friends. I love visiting with small groups of people.
Three things you would always find in my fridge…
Eggs, almond milk, and fresh fruit and veggies.
Something nobody knows about me or would be surprised to know about me…
I am actually quite introverted. Being around groups of people takes a lot of energy out of me and I really enjoy my alone time.
Favorite physical activity outside of CrossFit…
Biking and going for long walks.
Favorite place to eat out…
Mongo's Grill is one of my favourites!
What is your day job?
I am a Middle School Teacher.
Song that gets me pumped up for a workout…
Walking on Air by Katy Perry
The last thing I ate was…
Brown Rice, Tuna, and Green Beans.
My proudest accomplishment is…
Buying my house, on my own, not even a year after I graduated from university, at the age of 24.
My six month goal is…
one strict pull-up, back squat of 200 pounds, and to string together enough double unders to do them in a WOD
If I could have ANYBODY (living or dead) over for dinner, it would be…
My grandmother. She passed away when I was 5 and I don't remember her much. If my mom is anything like her, I know that she was a pretty fantastic lady. I would love to hear stories of her childhood and tell her about my life.
My favorite workout attire is…
Tights or crops and a tank top.
My favorite workout partner(s)…
I love working out with the girls I did On Ramp with. However, I also find it very inspiring and motivating to workout with the ladies that have been at CFS for much longer than I have. They all push me to lift more, learn more, and keep going!
Ready to become stronger & fitter?