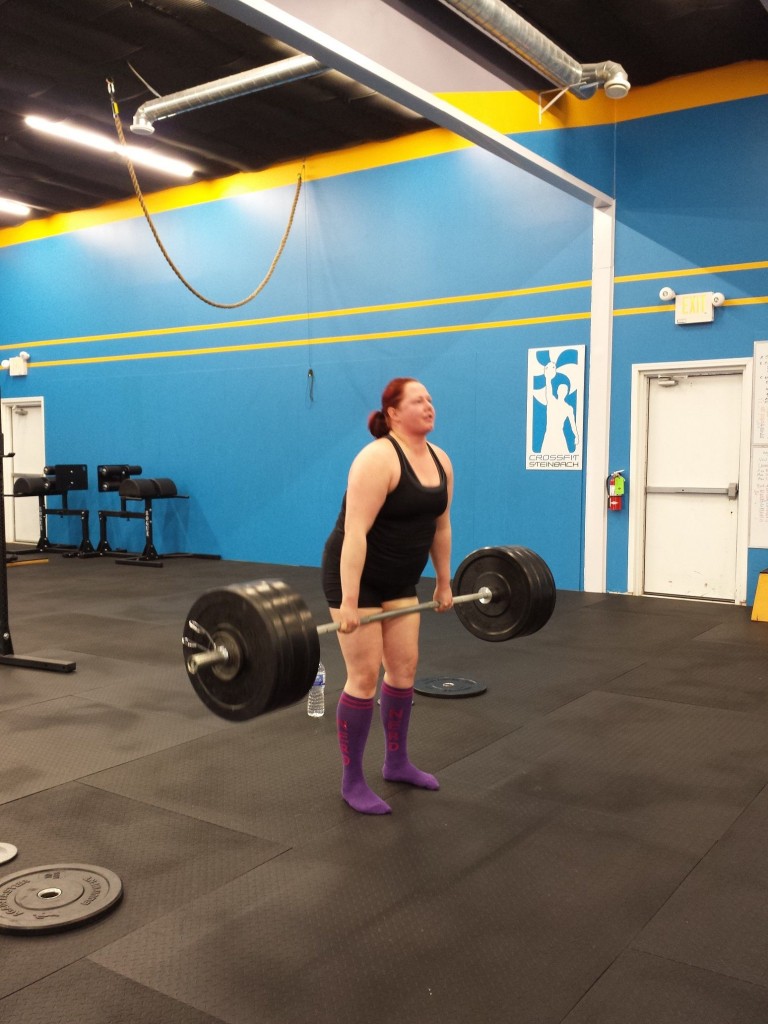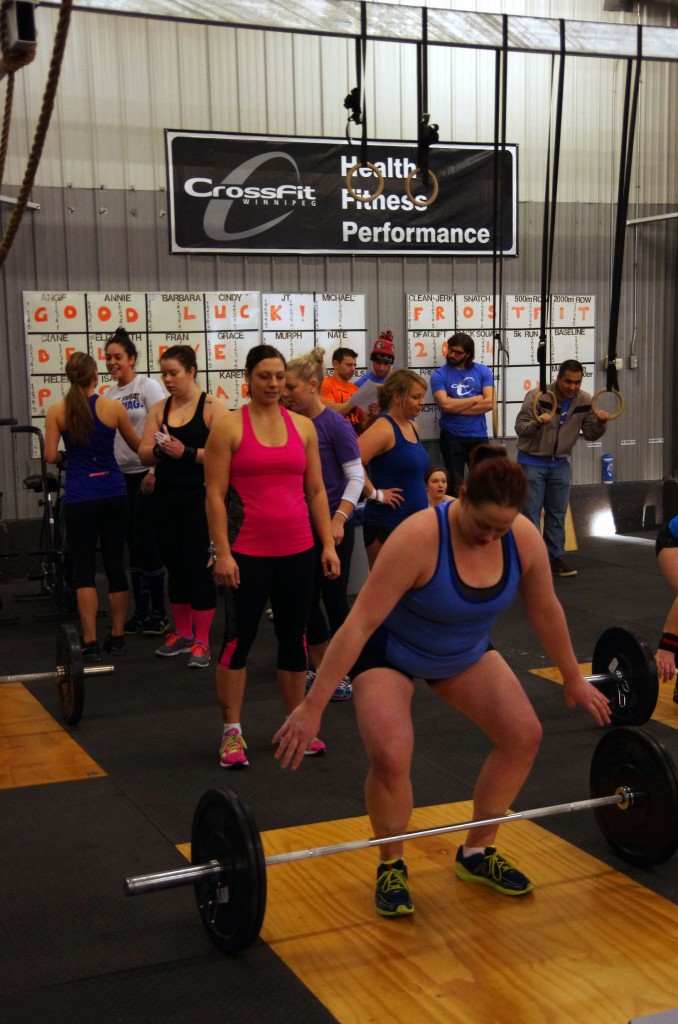 Mara with a 300 lb deadlift, and awaiting the start signal at FrostFit 2013.
Tell us about yourself
I'm Mara. I've been a fixture at CrossFit Steinbach since it opened and would be lost without my daily late afternoon WOD. I'm 39, single, and last year I competed at the annual FrostFit competition in Winnipeg. If you had known me 5 years ago, you might not believe that last sentence. I have been terrified of anything related to physical education/competition since I was 6 years old and my first exposures to it in school. CrossFit has changed my life in some very unexpected ways. It has given me the self-confidence, poise, patience and resilience to know that I can get through hard stuff and be stronger for it. That's what we do every day.
How were you introduced to CrossFit?
I was researching Zone Diet stuff about 4.5 years ago and kept seeing CrossFit references, and was pleasantly surprised to find there was a CrossFit gym in Winnipeg. Of course I was terrified to try it, but somehow found the courage to walk in that first day and have been addicted ever since.
What is your favorite WOD/Lift?
I love deadlifting. And Grace (30 – 95 lb. Clean and Jerks for time.)
What is your favorite skill/movement that you have learned at CrossFit?
Double unders. It took a while.
What is your "goat"?
Any body weight movement, but especially pull-ups. I still don't have one.
One word to describe me would be…
Transparent.
I have always wanted…
To learn to SCUBA dive. One of these days…
Outside of the gym, I like to…
Cook, read and do church/volunteer stuff.
Three things you would always find in my fridge…
Butter, club soda/sparkly water and those little cucumbers that are sold in a 6-pack.
Something nobody knows about me or would be surprised to know about me…
I am shy. It takes effort to make connections with other people and I often feel out of place in social situations.
Favorite physical activity outside of CrossFit…
Cross country skiing or swimming.
Favorite place to eat out…
Home, if somebody else will clean up :). Though I recently had a fabulous meal at Moxie's.
What is your day job?
Supervisor on a hog farm. Yes, I work with the pigs. Everybody seems to ask that. It is a relatively small farm and so I do a lot of the actual day-to-day work myself.
Song that gets me pumped up for a workout…
"Eye of the Tiger."
The last thing I ate was…
Salad at Boston Pizza.
My proudest accomplishment is…
Giving my time and skills to different initiatives. I'm pretty involved with my church and have had some wonderful experiences through that organization.
My six month goal is…
A FREAKING UNASSSISTED PULL-UP!!!
If I could have ANYBODY (living or dead) over for dinner, it would be…
My mom. She died in 2000 and I think she'd like who I've become.
My favorite workout attire is…
Short shorts and a tank.. And KNEE SOCKS.
My favorite workout partner(s)…
Pretty much the ladies I work out with regularly. We're more than workout buddies. We're an entire support system.
Ready to become stronger & fitter?