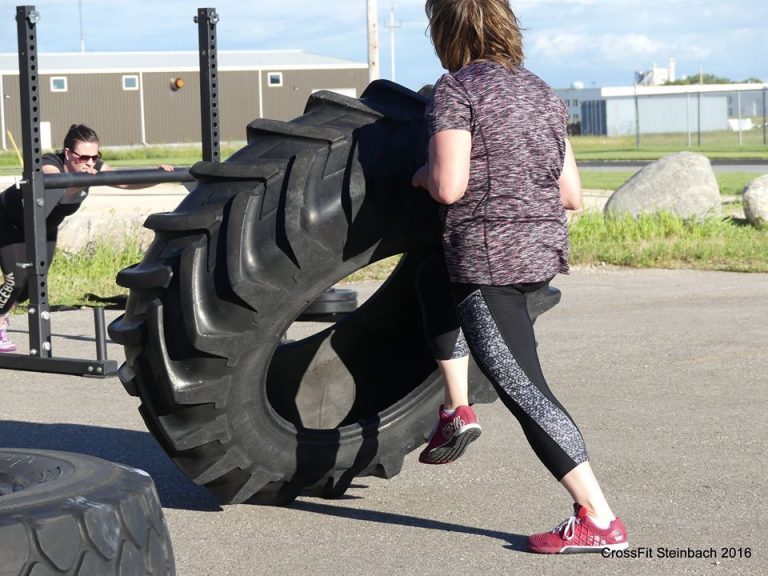 How were you introduced to CrossFit?
My daughter Annick suggested to me over the course of SEVERAL months that I should try CrossFit. I had all the excuses lined up… I am too old, too out of shape, too busy, etc. In November 2015, she asked once again. I recall we were all sitting at the table together. I was getting really tired of her asking, so I answered "Sure I will, if Patrick [edit: Rose's son] will do it with me.", knowing Patrick was too busy/not interested, so I would be safe! Well as luck would have it, Patrick said yes and I was on the hook. We started On-ramp a couple of weeks later…
What is your favorite workout or lift?
I love deadlift, bench press, strict press, push press. I love the intense workouts… usually anything involving AMRAP. I am tenacious and can be quite competitive!
What is your favorite skill/movement that you have learned at CrossFit?
I have learned to love burpees, wallballs, handstands, headstands, Airdyne, stir-the-pot… the yoke?? Challenging but great!
What have you learned from CrossFit that transfers to your everyday life?
The journey matters… I have always been result-oriented, but have really come to appreciate the value of the journey. The time you spend working toward a goal can and should be enjoyed.
What is a skill you need or want to work on?
Double-unders, snatch, overhead squat… squats in general!
I have always wanted to…
Visit India and Australia.
Outside of the gym, I like to…
Read.
My favourite physical activity outside of CrossFit is…
Swimming, which I don't do often enough. I used to love racquetball and would love to get back into it.
What is your day job?
Manager of the Court of Queen's Bench Registry.
My proudest accomplishment is…
My three children… they're awesome human beings! I would choose to be around them even if they weren't my kids.
Next proudest moment is that I have stuck with proper nutrition and exercise (CrossFit) over the last several months and have gotten stronger, more fit and have lost 50lbs.
My six month goal is…
Continue getting stronger and fit. I would also like to fine-tune my nutrition so as to maintain where I am at and figure out what foods work best for me.
A piece of advice for someone starting out in CrossFit would be…
"LEAVE YOUR EGO AT THE DOOR!". Really… nobody cares how you look in your workout clothes. Just go and do it!
Ready to become stronger & fitter?