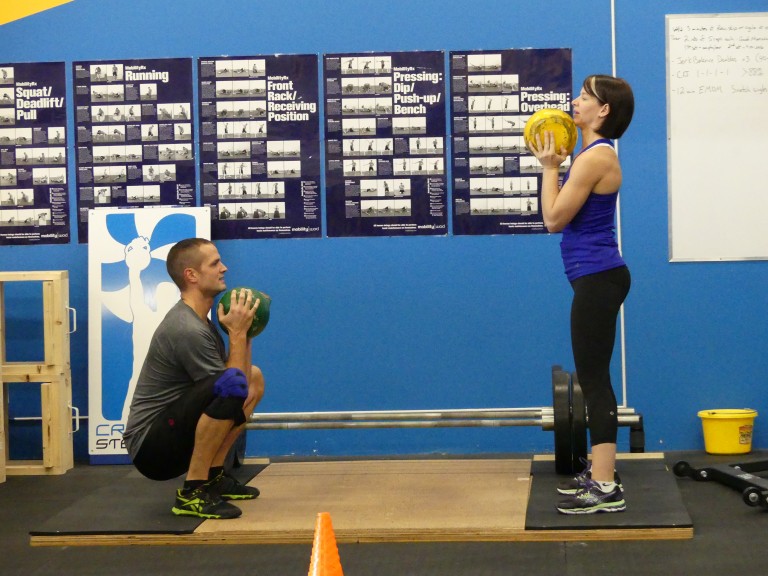 Tell us about yourself
I'm Tessa, 34 years old and married to Jeremy P. We have two kids that you have probably seen wreaking havoc in the gym: Jillian (4) and Brody (2). The toughest CrossFit workout is a breeze compared to taking care of those hooligans for a day!
How were you introduced to CrossFit?
Jer had been going to CrossFit for about a year and kept suggesting I give it a try. I've been coming to CrossFit Steinbach since May 2015.
What is your favorite WOD/Lift?
Anything with bodyweight movements.
What is your favorite skill/movement that you have learned at CrossFit?
Handstand pushups.
What is your "goat"?
Still learning most of the lifts, and I get frustrated when I start to over-think things and then do something stupid like smack my chin on the bar. (This has happened on more than one occasion). And apparently I can't do pistols.
One word to describe me would be…
Organized. I love lists and calendars and spreadsheets.
I have always wanted…
To be able to dance without looking like Elaine from Seinfeld. I blame my awkward moves on growing up in Steinbach.
Outside of the gym, I like to…
Drink strong coffee. Actually, I drink coffee inside of the gym too…
Three things you would always find in my fridge…
18% cream, eggs, rotisserie chicken.
Something nobody knows about me or would be surprised to know about me…
I once competed in a bodybuilding competition.
Favorite physical activity outside of CrossFit…
Cross-country skiing, although I don't get out there as much as I'd like. Sandilands is so peaceful and beautiful in winter.
Favorite place to eat out…
Jer's cooking has surpassed most restaurant meals for me lately. His kung pao is amazing!
What is your day job?
I work part-time as a social worker in a pediatric health care centre.
Song that gets me pumped up for a workout…
I'm a sucker for 90's dance and alternative.
The last thing I ate was…
A homemade pumpkin muffin (and coffee).
My proudest accomplishment is…
Keeping my marriage a priority in today's hectic world.
My six month goal is…
Kipping pull ups. And to get more sleep. (Please, God).
If I could have ANYBODY (living or dead) over for dinner, it would be…
Jimmy Fallon. I don't even really watch the show but I think he is hilarious and laughter is such a great form of therapy for me these days.
My favorite workout attire is…
Lulu crops and a tank top.
My favorite workout partner(s)…
I really appreciate all the encouraging ladies at the gym! I have no set workout time but always seem to be surrounded by positive women no matter what time of day I go. I'm grateful to the morning crew who were especially welcoming to me when I was just starting out.
Ready to become stronger & fitter?