CrossFit Steinbach's Silvers Program
Do daily physical tasks seem more difficult? Is getting on and off the couch a challenge? Are groceries feeling heavier or that flight of stairs getting more challenging? Is getting down on the floor to play with your grandkids difficult? We can help with that. Click here to book your free 30-minute assessment!
Like it or not, aging is a fact of life, and we will all have to deal with the physical changes that come with it. However, we have control over the degree to which those changes impact our quality of life. Choose an active aging process, where you can maintain a higher quality of life and functionality well into your older years.
No matter how out of shape you are, or how many years you've lived, you can restore much of the strength you've already lost. Our Silvers Program is a specialty class designed for people who are 55 and up (but we don't discriminate if some youngsters want to join as well!), and we're looking for people who are dedicated to making positive changes in their lifestyles. Join like-minded individuals for weekly training sessions and get fit together!
– maintaining and building your strength
– improving your flexibility and mobility
– increasing your range of motion
– improving your stability, balance and coordination
Your trained coach will modify your movements based on your levels of strength, mobility, current fitness level, or injuries to make sure that you are working out in a safe, pain free environment.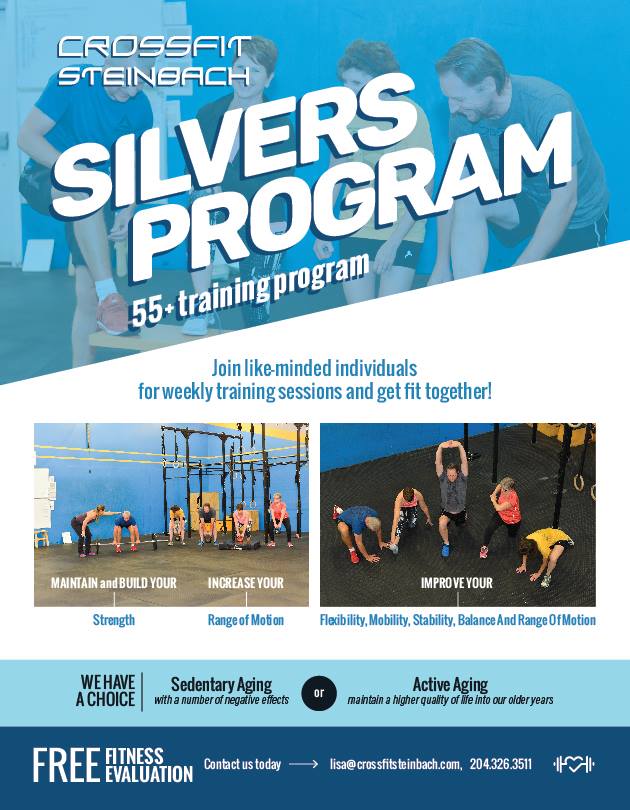 Additional Info
Date/Time: Classes run Tuesdays and Thursdays, 6-7 pm.
The cost for 2x/week sessions is $136.50 (tax included) per month. Your health and mobility are irreplaceable, and only you can make the choice to maintain them!
Call us at 204-326-3511, or email Colin at colin@crossfitsteinbach.com for more info, or book a free 30-minute assessment here!
Ready to become stronger & fitter?